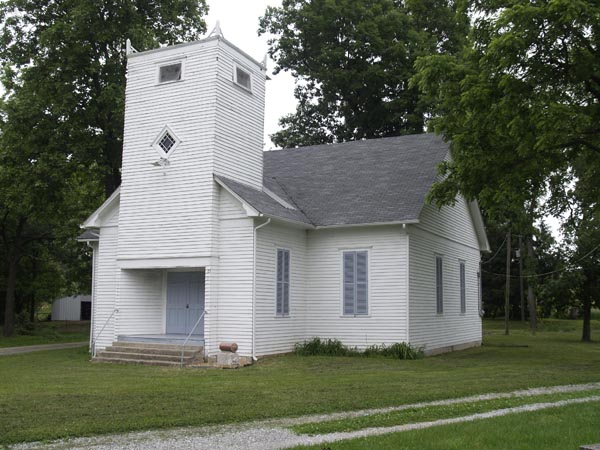 HISTORIC MT. PLEASANT Church
Directions: Go West on Route 14, turn right onto Rend City Road, then turn left on Park Street Road, then turn right on Mt. Pleasant Rd.
Mt. Pleasant Church was organized on July 11, 1829, at the home of John Browning. Elders Isaac Herring and Robert Moore formed the presbytery. The fourteen charter members were David Farris, Louisa Farris, James Eubanks, Cynthia Eubanks, John Bradley, John Browning, John Sandusky, Mumford Williams, Nancy Browning, W. R. Browning, Elizabeth Ann Browning, Polly King, Patsy Browming, and Jane Browning.
On the fourth weekend in October 1829, Mt. Pleasant was one of ten churches wich organized the Bethel Association. The church met, at first, in a log cabin, in Browning township, at the Spring Settlement. A second building at the same site was built around 1840. Abner Rea donated land at the present site for construction of the third building by J. Bellamy in 1874. The present building was later constructed in 1916.
Mt. Pleasant Church is the first Missionary Baptist Church in Franklin County. It was one of 7 churches that started the Franklin Association on October 16, 1841. The last service at Mt. Pleasant church was October 10, 1965.
Veterans:
James B. Adams Civil War Veteran18 Indiana Light ART August 28, 1839- March 15, 1921
John N. Daniels Civil War Veteran September 13, 1838- March 5, 1903
Jacob Eakle Civil War Veteran Co F 1 REGT Tennessee MTD INF September 22, 1848- January 25, 1918
William Smith Eubanks Civil War Veteran 110 Illinois INF April 13, 1838- February 16, 1922
William Flowers Civil War Veteran Co K 4 Tennessee MTD INF
David Gulley Civil War Veteran Died June 29, 1886
Joseph Gulley Civil War Veteran August 16, 1837- May 9, 1930
Perry Hill Civil War Veteran September 10, 1841- February 23, 1904
William H. Hill Civil War Veteran Co F 110 Illinois VOL INF October 11, 1830-March 18, 1888
M.B. Kelly Civil War Veteran Co D 65 REG Illinois VOL INF October 9, 1845- March 31, 1895
Overton R. Mallory Civil War Veteran Born 1844 and Died May 21, 1912
Benjamin Overturf Civil War Veteran
Chester C. Overturf Civil War Veteran Co C 60 Illinois INF Died June 15, 1918
Charles E. Peat Civil War Veteran Co K 18 Iowa INF Died March 26, 1903
Jacob J. Short Civil War Veteran Died August 22, 1891
Milton Williams Civil War Veteran Died November 20, 1901